The world's first voice activated real-time coaching system
Smart eyewear featuring a real-time, voice-activated coaching system designed to improve and enhance athlete's training and performance
Tracks all of your personal performance data (Power output, HR, Speed, Cadence, Distance, Time)
based on how you're performing in the moment
Users can communicate with the system in a more natural, less intrusive way.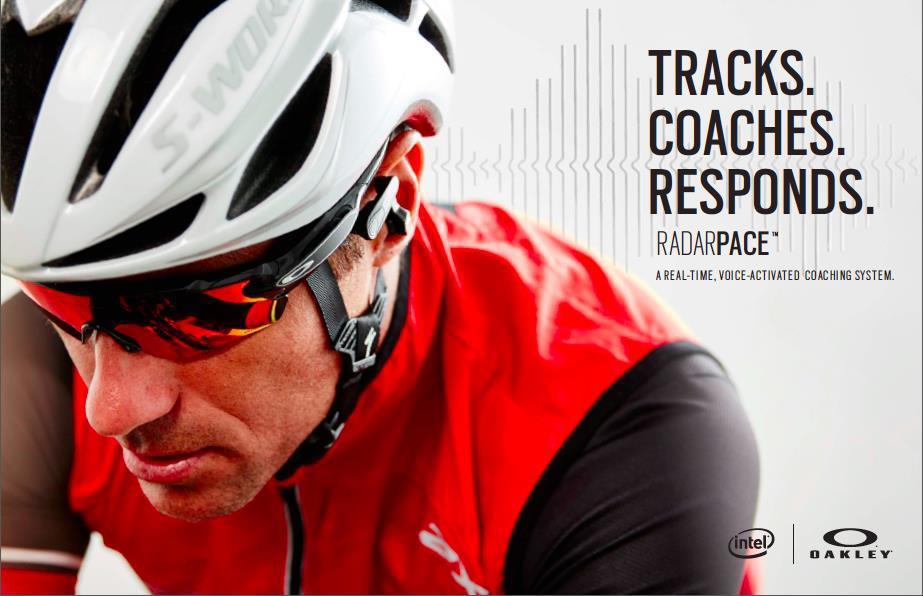 DESIGN AND OPTICS
Radar Pace is a stereo headset that combines premium optics and sports performance design.
COACHING CAPABILITY
Unlike competing solutions, Radar Pace delivers actionable information instead of just raw data. Radar Pace provides an unmatched coaching experience based on its ability to interpret data and interact with the athlete to provide feedback in real time.
TECHNOLOGY AND SENSORS
Radar Pace seamlessly integrates its on-board sensors with any paired external sensors (ANT+ or BLE) to provide measurement and analysis.
OAKLEY TECH
CONVERSATIONAL USER INTERFACE - A user can interact with Radar Pace in an intuitive way, asking questions in different ways as if speaking to an actual coach.
CONTEXTUAL AWARENESS - Radar Pace knows what you're doing in the moment, whether you've stopped to rest or you're climbing a steep hill. This awareness allows the system to give you relevant information in the right moment
MACHINE LEARNING- Radar Pace gets to know you and uses this knowledge to create dynamic custom training